One man's view of the outdoors.
This title used to say "of the World" but that was a little pretentious and depressing. I am not about to share my view of the World. I'll confine my imagery to the great outdoors and the natural World.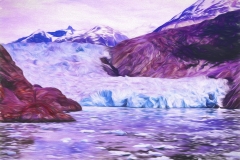 Sometimes I like to play with photos and produce a different look. One of my favorite tools is Topaz Impressions. It has so many cool filters and effects. It's easy to lose a day playing with them. One filter I especially like is a Georgia O'Keefe looking filter which applies a brush stroke simplicity. It doesn't work for everything but it is fun. I hope you like it.